The general issues presented here are the high priority positions PSE will advocate for during the 2021 Legislative Session. In short, this is PSE's "Game Plan" for the 105-day Session that starts January 11. PSE will also advocate the education support professional perspective on many other issues that arise during the Session and take positions consistent with PSE's Legislative Policy.
NUMBER 1.  PARAMOUNT DUTY
The Washington State Constitution states that "It is the Paramount Duty of the State of Washington to provide ample funding for K12 Education."
Ample means MORE than adequate. There is a reason why K12 Education takes up more than half of the state budget. Unfortunately, because of the pandemic, the State of Washington has a $2.4 Billion budget shortfall. Lawmakers will need to either reduce costs or increase state revenues. (State revenue options will be addressed below).
With the profound educational, social & emotional needs of our students, there is NO DEFENSIBLE REASON for lawmakers to make any cuts to K12 programs, staffing or benefits in order to balance the state budget.
In short, our message to lawmakers is:  DO NO HARM!
NUMBER 2.  JOBS & SERVICES
Work has dignity. That's why we desperately need to return 1,500 PSE union members who remain out-of-work across the state back to their jobs serving and instructing students.
This past summer, large numbers of bus drivers were getting laid-off – in some Districts the entire workforce was either laid-off or furloughed. PSE won a big victory when Gov. Inslee issued a proclamation on August 26 to resolve the pupil transportation crisis and put a stop to mass layoffs in bus barns all across the state.
Today, PSE continues the effort to get ALL of our members back to work, earning a full paycheck and receiving ALL of their work-related benefits. And we're fighting to keep anyone else from losing their job due to uncertainty over state funding. We need lawmakers to do their job and fully fund all K12 education programs.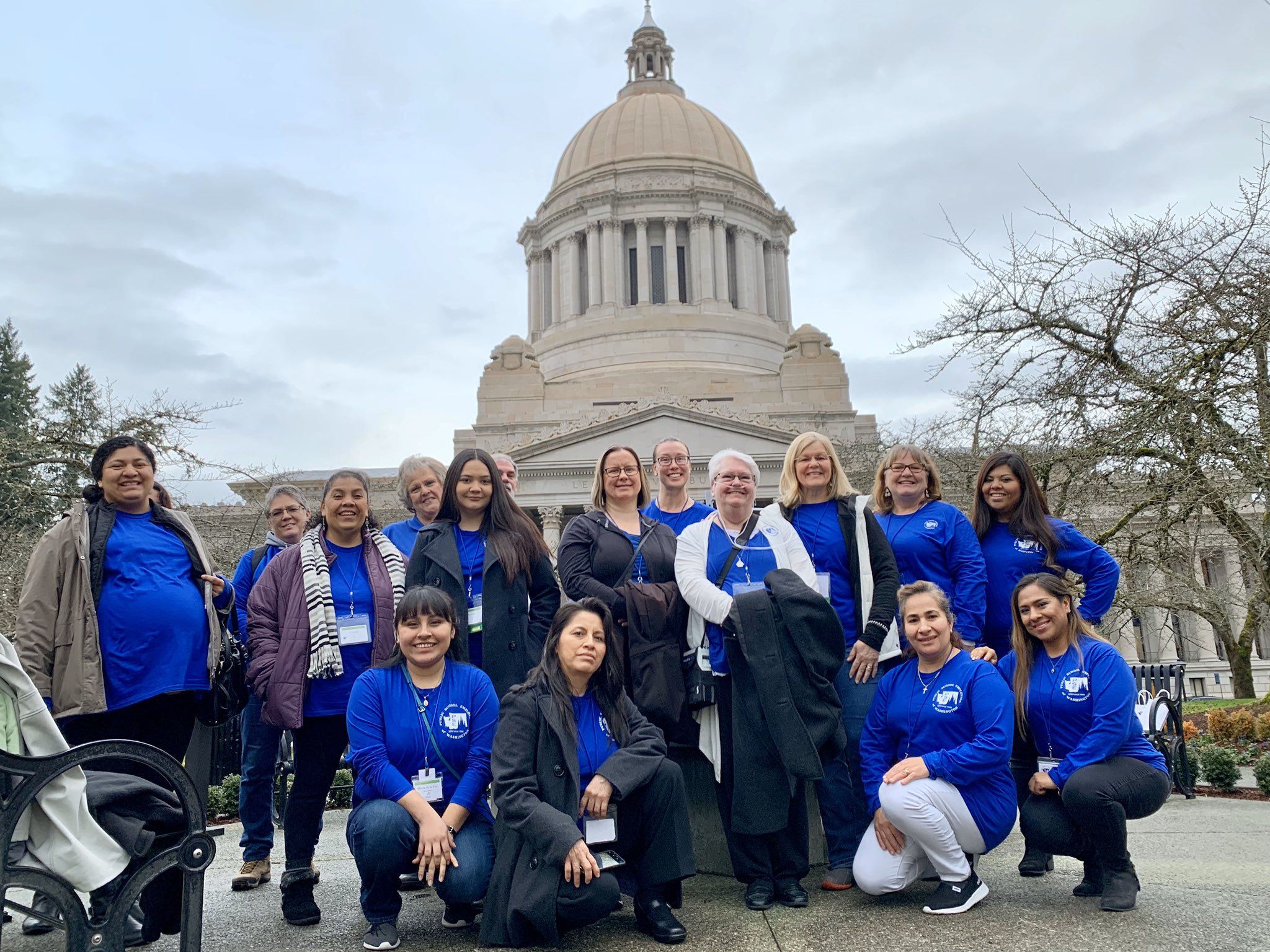 NUMBER 3.  HEALTH INSURANCE
Working together with our labor partners, PSE was successful in getting Senate Bill 6189 passed in 2020. This legislation preserved health insurance coverage for thousands of K12 employees displaced by school closures — including ALL who had their work hours reduced, MOST who were furloughed, and MANY MORE who were laid off from their jobs.
SB 6189 is still in effect today. But we may have to defend against efforts to repeal this vital insurance protection.
You can help by telling your lawmakers that school workers must continue to have access to their health insurance during the public health emergency.
NUMBER 4.  PARAEDUCATORS
PSE has led the way for many years to establish employment standards and a "first-in-the-nation" certification program for paraeducators. This is a huge deal. Many other states are looking to Washington to provide a bright example of how to develop high-quality professional development and a career ladder for our state's 23,000 paraeducators.
We cannot allow a pandemic or economic pressures slow down the important momentum we have built.
Gov. Inslee agrees with us, which is why his proposed operating budget invests $14 million to preserve 14 hours of PAID professional development time. Now, to be clear: The Governor's proposed budget helps – but it is only a proposal.
Lawmakers will have the last word. They may or may not decide to maintain funding for professional development time for paraeducators.
Paras, YOU MUST have your voices heard in this debate. PLEASE…reach out to your legislators. Tell them about the new skills and knowledge you have gained so far. Tell them how WHAT you've learned is helping or will help your students – especially those who need it the most.
In addition to funding, we also want the Legislature to allow paraeducators to use their paid professional development time to pursue coursework toward attaining the General Paraeducator Certificate (GPC), certification for ELL or Special Education, as well as the Advanced Paraeducator Certificate.
NUMBER 5.  CBA'S
PSE higher education leaders work hard every two years to negotiate new contracts with their Universities. This is the year we need the Legislature to ratify and fund those collective bargaining agreements for our union members.
So far, members at Central Washington University have reached a tentative agreement. Our OSE bargaining team at Western Washington University will meet in mediation in mid-January.
We also need lawmakers to fully fund health insurance agreements for employees enrolled in the SEBB and PEBB programs covering 385,000 employees, spouses and dependents.
(Please note, the Legislature DOES NOT need to approve the collective bargaining agreement for PSE members at Eastern Washington University. PSE members at EWU are part of a bargaining unit of exempt employees. Under state law, their CBA does not require Legislative approval.)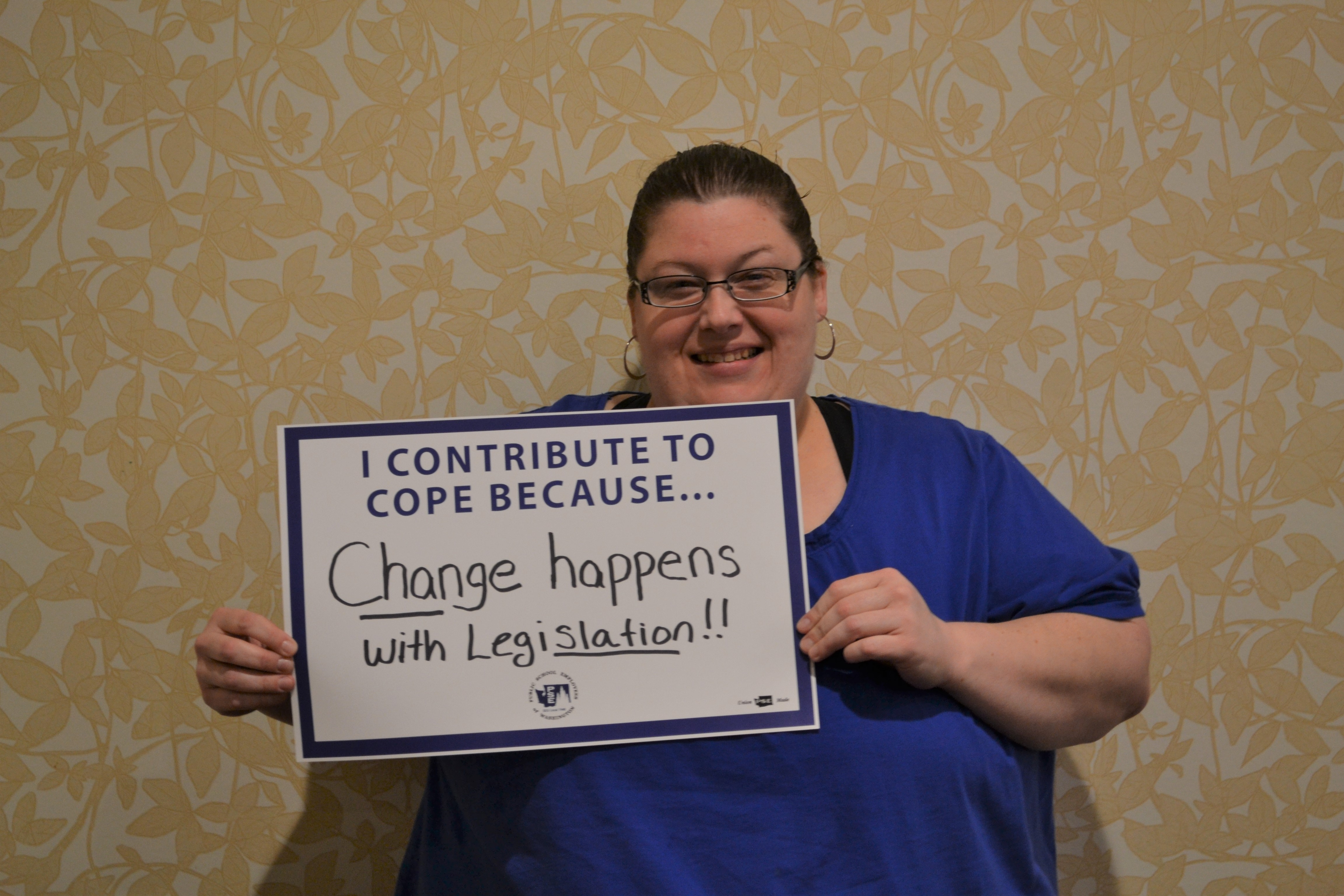 NUMBER 6.  HIGHER EDUCATION
Our regional universities are really hurting during this pandemic. Student enrollment is way down as many students are delaying their education until it's safe to return. And that means tuition revenue – a big revenue source for our 4-year universities — is also greatly reduced.
Further, the number of students living on campus is also down as almost all college courses are held online. This substantial loss of campus housing and food service only adds to a very negative revenue picture for our universities.
The bottom line is this: Universities need a lifeline from Olympia. They cannot tolerate any further funding reductions from the Legislature, which would only result in more furloughs and layoffs among our higher education membership.
PSE is calling on lawmakers to provide adequate operating financial support for 4-year higher education institutions during the current fiscal emergency. We need to stabilize the higher education system so that it can recover as quickly as possible.
PSE is also working with the College Promise Coalition on other higher education priorities, including affordability, financial aid, and also racial equity.
NUMBER 7.  REVENUE
Going into 2021, the state budget deficit is projected at $2.4 Billion. We need new state revenue to prevent painful cuts to education and other public services, as well as preserving those critical economic supports that many working families need right now.
We also need new Progressive revenue to balance our upside-down tax code. Currently, low- and middle-income Washingtonians pay up to a 7 times higher percentage than the wealthy do in taxes. By asking the wealthiest few to pay more in taxes, those individuals and businesses that are seeing record profits will contribute more and everyone will benefit.
You can help send this message to our elected officials by signing a petition. Go to www.InvestWANow.org.
NUMBER 8.  WORKPLACE SAFETY
Recently, Governor Inslee revised state guidelines to allow the gradual re-opening of our schools. And in late December, Congress finally passed another COVID relief bill – which includes $54 billion in direct aid to public schools and $23 Billion for colleges and universities affected by the pandemic. Of these funds, Washington state is estimated to receive $824 Million for K12 and $372 Million for higher education. This money will go a long way to providing the resources our schools and universities need to ensure safe working conditions for everyone.
These are both positive developments. Yet, there's still more to be done for education support professionals during the pandemic. Our State leaders need to continue to step up and approve adequate resources, including Personal Protective Equipment, other health and safety tools, TRAINING in the best use of PPE and other materials, and require appropriate notification of positive cases in school buildings and workplaces in order to keep students and ALL staff safe.
The State also needs to continue to prioritize delivery of the vaccine for ALL public school employees and higher education employees, and take steps to ensure that employers do not favor certain employee groups over others in the delivery of the vaccine.
Finally, PSE is working with a coalition of public and private sector labor unions on comprehensive workplace safety reforms for custodial employees. You can learn more about these efforts by attending the forum on custodial safety on Jan. 9 or watch the recording later on.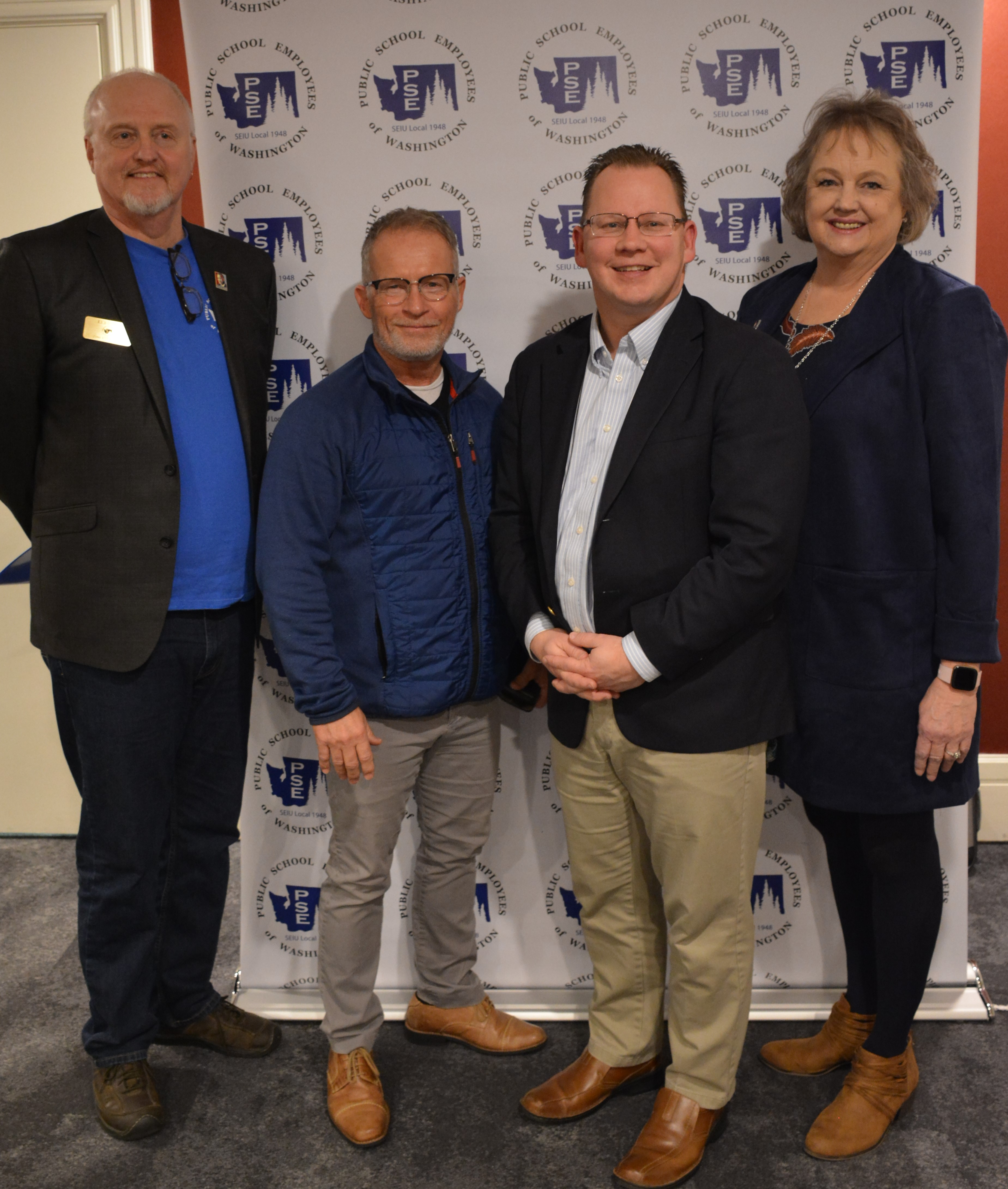 NUMBER 9.  HEALTH CARE CONSOLIDATION
We touched ratifying the SEBB & PEBB contracts above. PSE will also be closely watching efforts to consolidate the PEBB and SEBB systems into a single statewide insurance pool. A new study by the state Health Care Authority has identified some administrative efficiencies and savings that could be achieved by merging the two plans.
PSE believes it's too soon to look at another major overhaul of our health insurance. We fought hard to establish the new SEBB system specifically for K12 employees. SEBB is still in its infancy and employees and school districts are still figuring things out.
Further, PSE believes the insurance needs and the work patterns of K12 and state & higher education employees are vastly different. We also warn lawmakers not to adversely affect employee benefit levels or premium cost-share amounts.
NUMBER 10.  UNION RIGHTS
House Bill 1888 was among PSE's biggest victories of 2020. This was the bill to defend against the Freedom Foundation's request to harvest massive amounts of private employee information from the Department of Retirement Systems.
PSE won that fight against the Freedom Foundation. We will continue to support efforts by the Legislature to strengthen the rights of all public employees to unionize, fully participate in support of their union, protect their privacy, and push back against constant harassment by the anti-worker Freedom Foundation.
NUMBER 11.  PENSIONS
Washington's pensions for public employees are strong and they are well-invested. We must keep our pensions strong regardless of any state-wide economic situation. PSE will work to ensure that legislators don't make any short-sighted decisions in order to balance the budget – like lowering monthly pension contribution amounts for employers or employees.
Such a move would only threaten the long-term stability of our pensions and put off today's payments until some point into the future. Let's stay the course instead.
Whatever your technology, you can find all sorts of additional information on the measures detailed on the Legislative Updates page in your Member Portal.
Your first stop ought to be right here on the Member Portal. Updates will be posted throughout the Session.
You can also go to www.leg.wa.gov. This is the website for the House and Senate. Click on Bill Information where you can find the text of the actual bills and laws, descriptions of what the bill would do, summaries of public testimony, links to TVW programming, and roll call vote records. Click on either the House or the Senate and look up information on the lawmakers who represent you in Olympia, including what bills they are sponsoring.
Another good source for following the Legislature is TVW – Washington's version of C-SPAN. All of the business of the Legislature – committee meetings & hearings, House and Senate floor debate, roll call votes – all of this action is recorded and stored on TVW's website.